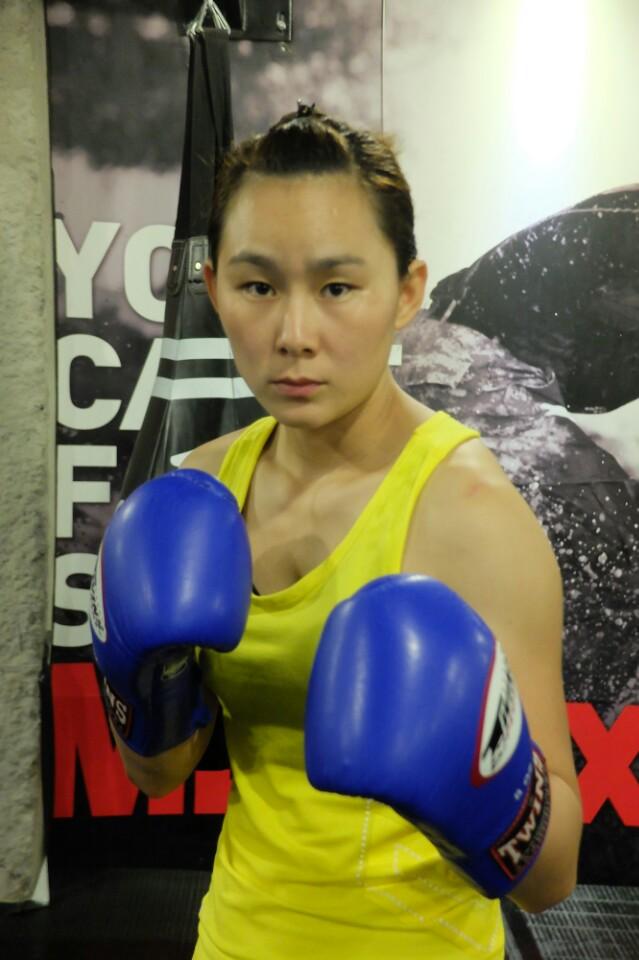 Name: Yan "Fury" Xiaonan
Age: 27
Height:5"5 (166cm)
Weight: 115 (52kg)
Record: 7-1 (5 via KO/TKO)
An exciting striker, Yan Xiaonan is arguably the best female fighter on Road FC's roster. Do not let the 8 fight record fool you, Yan has been fighting for a long time and has fought some tough opponents, notably Jin Tang and Gina Iniong. She made her pro-debut in 2009, but took almost a 5 year break between 2010 and 2015. With women's mma becoming more and more popular across the globe, Yan was drawn back to the cage in 2015 and has most recently been fighting for Road FC. An explosive Sanda fighter, Yan is not only one of the best fighters on Road FC's roster, she is one of the best fighters from China in general.
-----------------------------
CJ
: Can you talk about your fighting background and how you decided to go pro?
YX
: I was a student at the Xian Sports Institute training under coach Zhao Xue Jun since I was 16 years old and twice went to the national games in Sanda. Before going to Xian I was at the local sports school in my home town in Pan Jing Liao Ning. I also took part in MMA events in Xian that was organized by Ultimate Wrestle, they did about 30 events back in 2005 to 2010. They are actually the first MMA event in China. The Ultimate Wrestle MMA event was held every month and sometimes twice a month and there I got my first experience in MMA in their event.
I love martial arts and as a child growing up my dad also trained me in martial arts thus I can say that martial arts is our family sport. During my time at the Xian Sports Institute, I competed in many Sanda events at the city level, provincial level and have won some provincial titles. I went to the National Games twice in Sanda. Most fighters finish after going once, however, I love Sanda so much I trained for a second chance to go. I also in took part in MMA events such as Ultimate Wrestle. Many of my teammates that were older competed in the Art of War thus many of our team members were also training in Beijing to fight in MMA events internationally and I just love watching them fight with limited rules. In 1999 I was offered an opportunity to fight in Martial Combat in Singapore and since then I have been fighting in MMA events.
CJ:
Looking at your record, there is a big gap between 2010-2015, what happened? Why did you stop? Why did you come back?
YX:
In 2010 I was fighting in Martial Combat and Ultimate Wrestle. I distinctly remember 2010 in Ultimate Wrestle as I beat Tang Jin in first minute of bout, they had pride rules so we can stomp on our opponents. It was much more aggressive than fighting now because they do not allow stomp on fighters and soccer kicks when down, and also some even now cannot knee head or do elbow strikes. In 2011 I went to Singapore to fight twice in Martial Combat. In 2012 I started competing in Muay Thai events and also hold a national title in that. At that time there were not so many events in MMA in China open to girls. The ones that were available I have competed in. In 2015, Alvin at URCC offered me an opportunity to fight and I wanted to get back into fighting in MMA.
CJ:
Your English nickname is "fury", which reflects your aggressive style. Can you describe your fight style for new fans?
YX:
My name Fury was giving to me during Martial Combat which basically is how I fight. I am aggressive, fast and relentless in going after my opponent. My striking ability comes from top coaches that I have trained under - Coach Zhao Xue Jun, whom is also coach to many of China's top champions such as: Anhu, Bao Li Gao, Zhao Zi Long, Na Xun, Qing Ge Le, Wang Guan, Bateer and many other top champions. The biggest difference I can tell you is that we like to KO our opponents and consistent training in the basics of power striking skills, cardio and conditioning.
CJ:
As a Sanda fighter do you watch fighters like Cung Le?
YX:
Cung Le is famous in USA and know who he is, he fought my coach NaXun (Mongol King) in Hawaii, however I have not watched many of Cung Le's fights, I have seen him in some Hollywood movie. I have watched fighters like Ernesto Hoost, Badr Hari, Gokhan Saki, Giorgio Petrosyan in Kickboxing. I like to watch Pride fighters like Wanderlei Silva and now guys like Jon Jones and recently Conor McGregor and of course Ronda Rousey and Holly Holm.
CJ:
Which fight of yours should a new fan watch? A fight you're particularly proud of that showcases you.
YX:
Hard to say which fight showcases my skills, probably the one most seen is me fighting Gina Iniong from the Philippines in Martial Combat. My kick went into her mouth, that was a first time for me to have that happen to an opponent and I received some fan mail from Singapore which I still remember. My current fights in Road FC highlights my style, however I think it still needs lots of improvement as I am still waiting to KO my opponent.
CJ
: You've fought some pretty tough fighters (Gina, Jin, ect.), does that boost your confidence?
YX:
I have fought in many Sanda and Muay Thai fights and the experience carries over to MMA fights. I am not too worried about my opponents as I train full time and and prepared to fight. My toughest fight was against Mongolian National Wrestling Champion Bayarmaa Munkhegerel because she had real good take downs and ground skills, she had recently won prize in an international BJJ event at blue belt level and was it a bigger than me thus I was worried about going to the ground with her.
CJ:
Can you describe your average day? Your training schedule?
YX:
I have two training sessions everyday. In the mornings I alternate days to work on strength, conditioning and in the afternoon I train at the Beijing Shaolin School because one of my senior team mates from Xian - Li Zhi Qiang - is a coach there. I also train at CTT for some of my ground game as my ex team mate - Zhang Tie Quan, Li Jing Liang are there. I also train at different camps to learn from different instructors to expand my knowledge and to also to find proper instructors that fits my style. Also its good for me to spar with different fighters and opens my experience to different fight styles. My training sessions are usually two to three hours long, I spend most my time on the basics of foot work, striking, grappling, takedowns, submissions. The usual for all MMA fighters I think, however I stick to my striking more as that is my core competence.
CJ:
Congratulations on getting married! What was it like fighting so close to your wedding?
YX:
Thanks, my husband Zhang Yang supports me very much on my endeavor to chase my dreams to continue my career in MMA. The fight in Road FC was very close to my wedding, I went to Beijing to check in same afternoon as my wedding, however we had to drive about 8 hours and got there evening before weight ins. I did not get to enjoy the food at my wedding as I had to cut a kilo. It was a learning experience for me too as I did not get enough time to train for my fight, there are so many details for my wedding especially when there are so many family members to deal with and also many things to do for a wedding. I felt that I could have fought much better and be more aggressive. My game was a bit compromised from the lack of proper training. My opponent being a Sanda fighter was very tough and put up a good fight.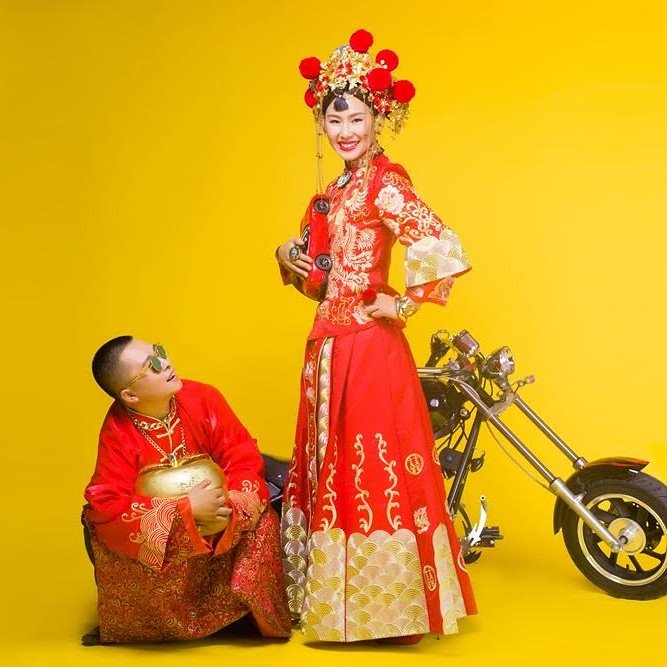 CJ:
You're one of the top Chinese fighters, can you talk about what representing China means to you?
YX:
I love the sports and competitive aspects of being an athlete. I am proud to representing China, however its not only that which I feel is most important. I am also representing my team, my family, my coaches, instructors and all those that believe in me, they have spent their time working with me and helping me chase my dreams. It is also their dreams that I succeed and winning is the fruit of everyone's labor. I am just trying to be the best I can, learning and growing as a martial artist and I think that represents what being a true top Chinese athlete is about. I don't do fake fights, I don't do special favors, when I step in the ring to do my best and beat my opponent. During my days at the sports institute we just train hard, compete whenever we can and try to win every fight. That I believe is the spirit a true fighter and that is what it means when I win. If I can represent my country and win, I am glad I can. I like to focus on the training and there is so much to learn and many people from all over the world that have helped me grow as an athlete. There are also many top athletes in China that has come from the same system that I have thus when I win a fight, I also feel that my victory is what I am giving back to them all their hard work. I respect all my opponents that have stood opposite of me no matter what country they are from, I have fought fighters from Russia, American, Philippines, Mongolia, Korea, to me they are firstly an athlete with much courage and deserve 100% of my respect. I think that martial arts transcends borders, countries and nationalities, I want to also thank all my Chinese audience fans and international fans for their support and patronage that is making MMA a popular sport.
CJ:
I read that your ultimate goal is the UFC, can you talk about that?
YX:
I want to fight in the top event in MMA and I believe that the UFC is the pinnacle of MMA in the world. I want face top opponents as it is a challenge to myself and my abiilties.. I know that with the proper training and preparation I can compete with the best. A few of my teammates has gone to UFC, Li Jing Liang, Jumabieke, Wang An Ying, Yang Jian Ping, Zhang Li Peng and I know I can compete at that level and win.
CJ:
Can you talk about the WMMA scene in China? Is it growing? Do you see more women in the gym?
YX:
There is a growing number of female MMA fighters in China. Many are crossing over from Sanda. Some of the top ones I have seen are from the Xian Sports Institute and Wuhan Sports Institute. Currently there is a sudden demand of female fighters which is good but also has its drawbacks as some are highly promoted and not up to par with the ones from the sports institutes. The interest of females in this sport is growing very slow in comparison to the west, I think that it will change in the future as more and more athlete from Judo, Wrestling and Boxing will move into this sport. There are many champion female athletes in China as you can see in the Olympics and world games. The environment has to be there for them to make a move into this sport. I hope that I can motivate more females into this sport. I think that by winning I will be able to set an example for many females to follow.
CJ:
What do you like to do when you're not fighting?
YX:
I do the usual girl thing, go to movie, go out with my friends, maybe play some basketball. I am not into make up or fancy clothing. I like things simple and to spend time with my parents. Being with my parents is very important to me, when I was at the Xian Sports Institute I only see them once a year or at a major event thus I got little time to spend with them. During holidays we train, the only time off is Chinese New Years and it is so hard to get a train ticket home. I know they are there for me and support me by giving me space and time to be with my team mates and coaches to train, now that I have more of my own time when I am not training for a fight I will go home to Panjing, Liao Ning to spend time with them. At home I will cook, watch TV and spend time talking with my parents as we have so much to catch up on. Actually I like to cook with my parents cause I miss the food I had growing up. In Xian we eat lots of meat and noodle, when I go home I get to cook up some seafood, make some dumplings, and my relatives will visit and we will watch some of my fight videos.
CJ:
Is there anything you'd like to say? Anyone you want to thank? A message for the fans?
YX:
I want to thank all my fans for watching my fights, my parents their support and importantly my Coaches - Zhao Xue Jun, Na Xun, Wang Han, Zhang Tie Quan and Bill Eng for believing in me and all their time and effort in helping me succeed as a athlete. I want to thank all the organisers that have given me opportunities - Road FC, URCC, Beijing Fight Nights, North East Art of War, Ultimate Wrestle and my competitors for stepping up to fight me.
CJ:
Can we expect to see you in the cage soon?
YX:
Yes, I hope very soon.
Enjoy