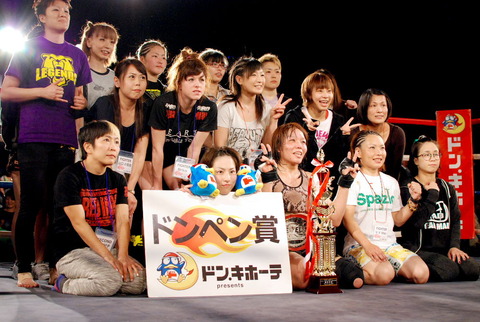 Photo Courtesy of LADYGO!
Deep Jewels 4 went down this weekend. The event could really be cut into two halves. The first half was dedicated to prospects and fighters making their debuts. With a lot of stars having retired on the Japanese circuit recently, it was good to see these younger fighters getting experience. The second half of the card was dedicated to the veterans. V.V Mei, Ham, Sugiyama, and Hashi are all established fighters who have fan bases.
The First Half: The Prospects
The prospect who stood out the most to me was Ayaka Miura. Miura fights out of Tribe Tokyo, Ryo Chonan's gym. In her first fight this weekend, she faced off against Ella Wu. Wu came right at Miura throwing hard punches. Miura took Wu down and set up a beautiful arm-triangle choke. I was really impressed with the entire set up and how she stayed calm under the initial barrage. I am interested to see how she evolves as her career goes on and hope to see her on Deep Jewels August event card.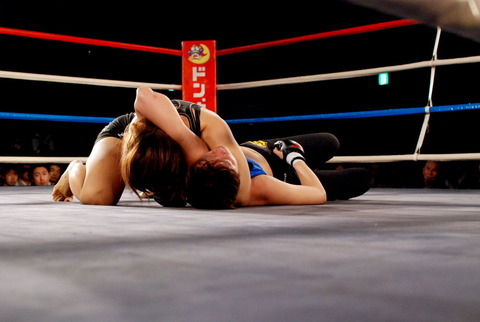 Courtesy of LADYGO!
The other interesting bout was between Briko and Maesawa. With the lack of an amateur circuit in a lot of regions some fighters get thrown into the shark tank to soon. It looks like that was the case with Maesawa, who started her career out losing 3 in a row but has now won 3 in a row. Her opponent, Briko was making her debut. It looked like Briko was nervous or unsure during the fight but this fight will be good for her. She came out better in the 2nd round and with her debut behind her I expect to see better showings from her in the future.
The Second Half: The Veterans
The first fight after the intermission was between "V.V" Mei and Yukiko Seki. Coming off of two controversial losses, Mei looked focused. She had a look in her eyes. She came out aggressive and when she had Seki on the ground she hit her and hit her hard. She eventually jumped on Seki's back in the corner and sunk in a deep choke. I was very impressed with Mei. It looked like she wanted to get those losses behind her and move on in her new division of 105 and that is exactly what she did.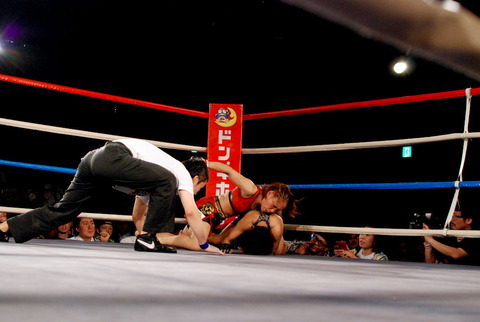 Courtesy of LADYGO!
In the nights kickboxing fight, Ham Seo Hee fought Yuka Kira. The first round was a little frustrating to watch with all of the breaks. The second and third round were much better. Kira fought with a lot of heart and showed great promise for being only 17. However it was Ham's night. Ham's strikes were more accurate and Ham hit her harder. Ham was also able to land several solid combinations. Kira who has been fighting allot recently should learn from this fight as Ham is the best kickboxer she has ever faced. Hopefully Ham stays busy and we get to watch her on the August card as well.
Courtesy of LADYGO!
In my opinion, the best fight was between Saori Ishioka and Satomi Takano. There was a little bit of striking but this was mainly a grappling affair. Takano took Ishioka down but Ishioka countered with an armbar. Takano then slammed Ishioka (gotta love those new rules) and fought her way out. Then the tangled fighters went for heel hooks on each other. Ishioka eventually mounted Takano, laid down some ground and pound and when Takano tried to roll over locked on a tight arm-bar. Ishioka looked good. After taking a hiatus to start a family it appears that she hasn't missed a beat. With her fighting at 105lb and saying that she just can't gain the weight to fight at 115lb, I look forward to seeing her fight in the future.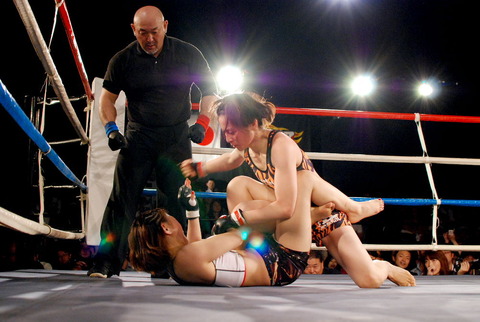 Courtesy of LADYGO!
The main event was for the inaugural Middleweight Title. The executives at Deep Jewels really want Shizuka Sugiyama to be a star. She has been the face of many of there marketing campaigns recently. When they promoted this event at Deep shows it was Sugiyama who went to the events to take part in promotions and garner attention. With Mika Nagano retiring it seems that Sugiyama is slotted to fill her role. The problem being that Sugiyama has a hit and miss record against tough competition. She is a tough fighter and has improved greatly but it was not her night. Hashi is a true veteran of the sport and has fought some of the best in the world. Both fighters looked good during the fight but it became obvious that Hashi was better on the ground. The ground and pound that caused Sugiyama's corner to throw in the towel would have finished any other fighter. Hashi looked good but she is getting older and has had some injuries. She also expressed a desire to fight abroad and said she wanted to fight Miesha Tate. I am interested to see if she stays busy and how she does. I for one hope she stays healthy and would like to see her rematch Ji-Yeon Kim at the next Deep Jewels show.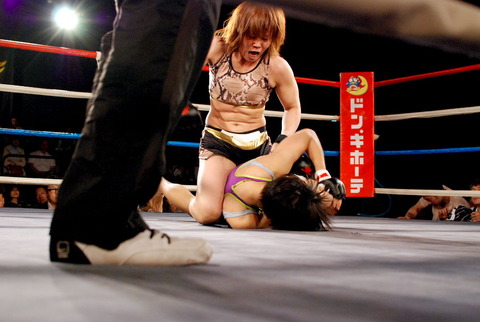 Courtesy of LADYGO!
All in all there were some exciting and good fights on the card. The veterans delivered and some of the prospects looked promising. For only 7 dollars it was great to see it aired live and I hope they keep airing there events. The event is still available on USTREAM for those interested in watching some of the fights.