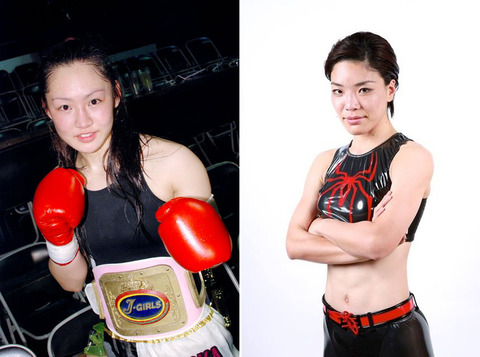 Madoka Jinnai vs Ai Takahashi
Photo Courtesy of LADYGO!
Shoot Boxing's Ai Takahashi has been booked to face off against Madoka Jinnai on the June 22 J-Girls card.
Ai Takahashi (19-5) who has competed under Shoot Boxing rules for most of her career is in an interesting position. Having moved from 51kg to 53.5 kg, she has met a measure of success and looks better in the ring. However, she has lost to 2-time S-cup Champion Mizuki Inoue 3 times. It will be tough for her to earn another shot against Inoue but she is on the right path. Inoue aside, Takahashi hasn't lost since 2010 and has been finishing fighters recently.
The 20 year-old Jinnai will be looking to add to her accolades with a victory over Takahashi. After fighting on the amateur circuit for awhile, notable fighting Erika Kamimura 4 times, Jinnai has amassed a professional record of 15-4-1 and is the current J-Girls and WMPF Japan's Champion. Takahashi is the biggest name that Jinnai has faced professionally and a win over her could launch her career to new levels and possibly open the door to a Girl's S-Cup invitation. Jinnai is coming off of a decision win on the 18th.