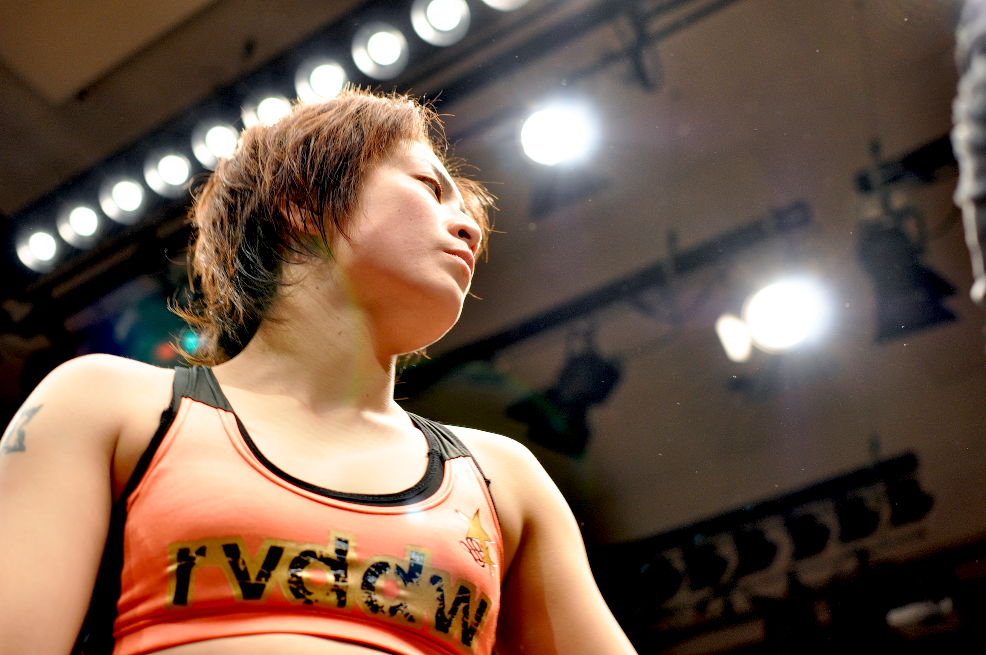 Courtesy of LadyGo!
Name: Saori Ishioka
Age: 28
Height: 5'2" (157.48cm)
Weight: 105 (48kg)
Record: 13-8
Notable Wins: Mika Nagano, Celine Haga, Tomomi Sunaba
The Shooting Star has been a staple of the Japanese MMA scene since her debut in 2007 and was one of Jewels's top drawing fighters, where she headlined 7 events. It looks like she will be resuming this leading role with Deep Jewels as she headlined Deep Jewels 6 and will be headlining Deep Jewels 11.
The Beginning
Saori started martial arts when she was young, competing in Judo from 4th grade all the way through high school, picking up kendo along the way. Her Judo career was highlighted by a 2nd place finish in the prefecture tournament and a trip to China.
At the age of 19, Saori moved to Tokyo, where the plan was to work a normal job and to live a normal life. However, there was a Karate dojo near her office and she missed the physicality of Judo so she started going to the dojo.
In 2007, Saori made her debut under the Smackgirl banner and subsequently became one of the faces of the Jewels promotion. During her time with these promotions, Saori fought some of the best fighters in Asia. This is reflected in her record, 12-7. On its face not a great record, but those losses include Megumi Fujii, Yuka Tsuji, Ham Seo Hee and V.V. Mei.
In 2012, Saori got married and pregnant and stepped away from the sport. In her absence, Jewels ceased operations and was taken over by Deep, where Deep Jewels was formed.
The Return
On March 26th, 2014, Deep Jewels held a press conference to announce that Saori would be returning to the ring. After nearly two years, Saori was going to drop a weight class and fight Satomi Takano.
When she initially stepped away to get married and have a child, Saori had intended to return to the ring but that motivation had waned. When she stepped away from Jewels, Mika Nagano had told her not to worry, that she would take care of Jewels until Saori could come back and fight her, but it wasn't to be. Mika got married and wanted to retire to start a family. A retirement fight was scheduled and Saori was to be the opponent but it was abruptly canceled when it was discovered that Mika was pregnant.
With the promise of their match gone and having had her son, Saori debated retiring but ultimately decided to return. She had found new motivation. Saori would fight to help younger fighters, because without the veterans the promotion would fail. In addition, Saori wanted to show her son the results of hard work.
If Saori had ring rust, it didn't show as she finished Takano in the first round by armbar. Now, coming off of a loss to rival Ham Seo Hee, Saori hopes to rebound with a victory over Emi Tomimatsu at Deep Jewels 11, where she will once again be headlining.
@i_saorin