Ham makes her debut




With her fight coming up next month, I thought it would be interesting to look to Ham Seo Hee's first fight, which set her on a road making a South Korean import one of the most popular female fighters in Japan.
Ham's professional mma career, in my personal opinion, seems to have been the result of a Japanese miscalculation. Deep, as is common, was looking to build up Hisae Watanabe who had just knocked out Satoko Shinashi, then promotional poster-woman, in devastating fashion and the promotion wanted to shift their promotional efforts towards the new champion, so they flew in a little known kickboxer from Korea who was making her MMA debut. Watanabe was one of the biggest punchers in MMA history who didn't like to go to the ground, so it seemed perfect. However, Ham had other ideas.
The Pre-Fight Interviews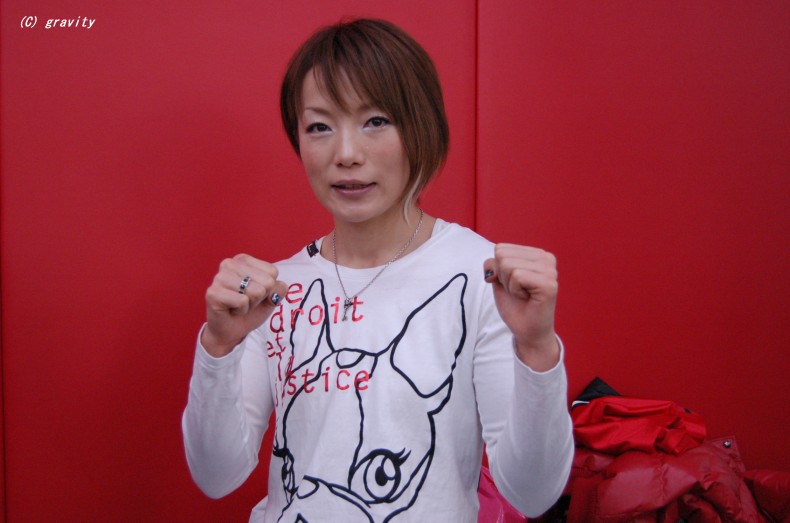 Hisae Watanabe
Q: How is your condition?
Hisae: My condition is good. It is really good, but perhaps I should say I won't know until the fight.
Q: Are you in good form?
Hisae: My form is really good.
Q: What's your image of how the fight will play out?
Hisae: Even though I said I understand mixed martial arts, I'm a striker, and I really want to beat someone regarded as a striker. Even though I said I want to go forward and strike, my coach and others told me the other day to fight a mixed martial arts fight. Certainly its a mixed martial arts fight, this time my fight will be on a card with three title fights, if we do a kickboxing match, it might become a slow fight. Especially if I'm not able to knock her down. If I can move smoothly, I'll take her down, and get the submission if I can, I think the fans would be ok with that result. But as I've said before, you don't drink your vomit, by that I mean in relation to the fight, I feel like it will be a striking affair, but I'm not going to stick to that to my detriment. Naturally I want to be like I'm in training, I want to move naturally, and since I want to leave a big impact I'm not going to stick strictly to striking, I'm going to show my mma power. But I want to win by KO.
Q: If possible you want the KO?
Hisae: You say if possible, I saw absolutely.
Q: Its been a while since your last fight, any ring rust?
Hisae: Not at all. Even though I haven't fought in half a year, 2 months ago I felt like I wanted to fight. Since I had that feeling, I'm not worried about anything. But, the pressure's been building up!
My fight is before the title fights! I want to see them.
Q: What is your motivation?
Hisae: Yeah, my motivation, I was worrying about that but having fun is the best motivation, plus its not like taking the belt didn't increase my motivation.
Q: Whats your orignal point for tomorrow?
Hisae: I cut my hair short, it will probably look a little unkempt, I think I look invigorated and will be able to put on a good fight tomorrow. Even when I'm struggling I think my new haircut will invigorate people. I want people to look at that if I'm struggling lol.
Q: Will your parents be coming to the fight, what do they think?
Hisae: This time my opponent is Korean, my mom doesn't know this opponent, if she knows the fighter she'll tell me what to do and can tell me a lot, but since she doesn't know my opponent, she has simply told me to do my best.
Hisae: Ham Seo Hee is cuter than I expected, a little while ago when I saw her eyes when I she said hi to me, we both looked at each other and smiled, I think we both want to put on a good fight, I think it would be nice to win solidly, since my parents and people are coming the tension is building up so please cheer loudly, even it if is to heckle me. Yes. But I might give into heckling...so pleace cheer, since that will fill my confidence. I'm also excited to see this inexperienced Ham Seo Hee. That's how I feel.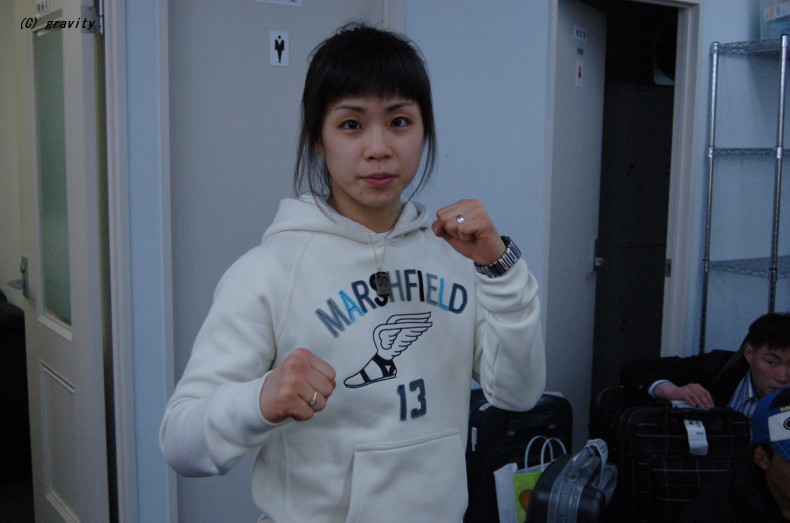 Ham Seo Hee
Q: What about your condition?
Ham: It's really good.
Q: I heard that striking is your strong point, are you going for the KO tomorrow?
Ham: I'm fine going forward aggressively from the get go, but I want to look at my opponent and control the fight. But I haven't got to fight her yet so I don't know, but I'm going to try my best to have a good fight with Hisae.
Q: Have you seen any of her fights?
Ham: I saw her fight with Satoko Shinashi.
Q: What did you think of it?
Ham: I had heard that she was a striker, but on the ground she went for an armbar, I think she is a good fighter.
Ham: I'd like to say to those coming to the fights, I'm going to do my best to put on a good fight, so please cheer.
The Weigh-Ins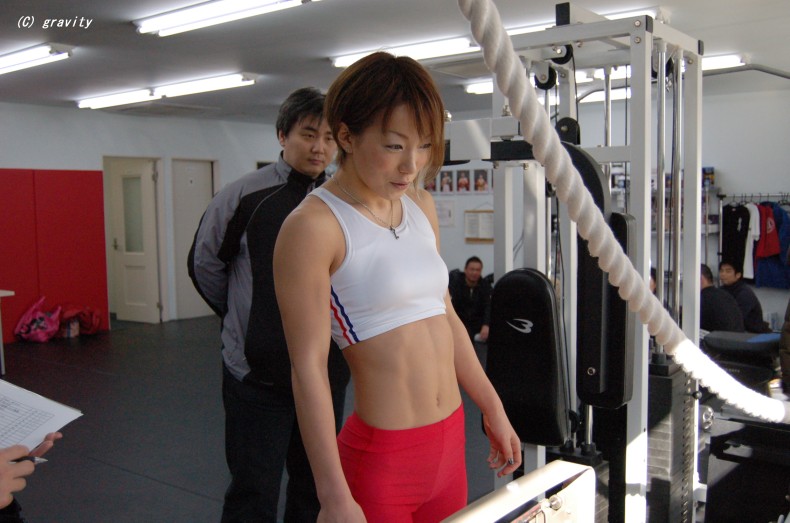 Hisae Watanabe 107.8lbs (48.9kg)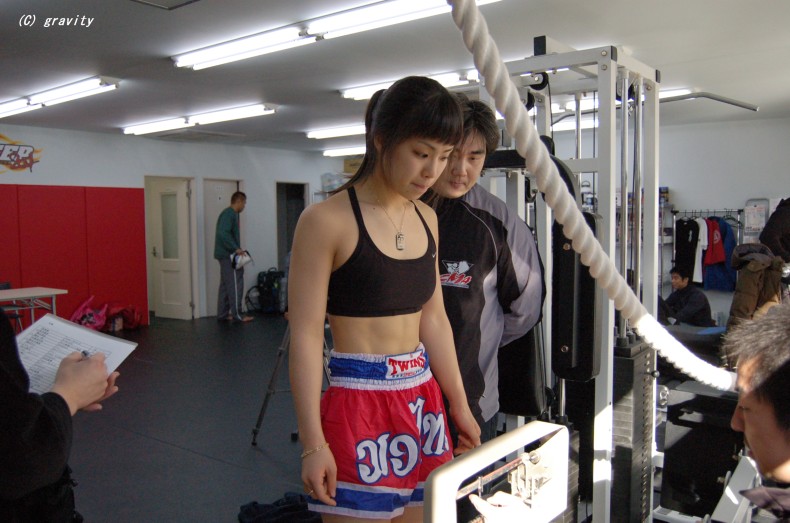 Ham Seo Hee 105.8lbs (48kg)
The Fight
Round 1
The southpaw, Ham, landed a variety of strikes, including an uncounted number of left hooks and knees from the clinch, tormenting Hisae. Hisae, who had hoped to face a striker, was at a disadvantage and in the striking affair showed great heart.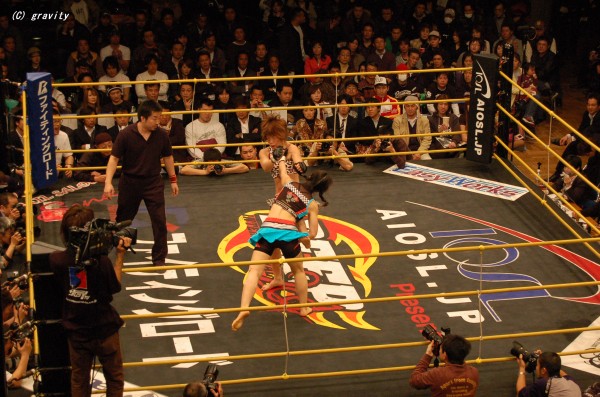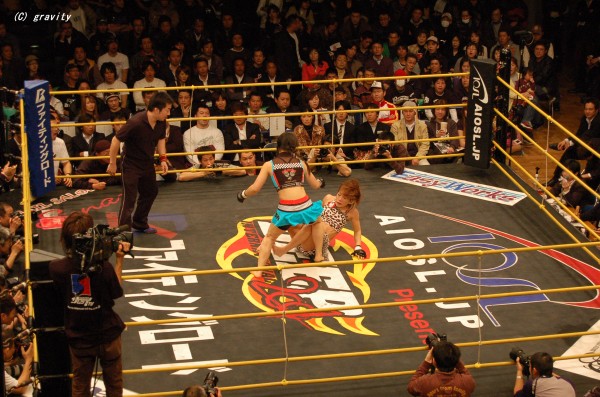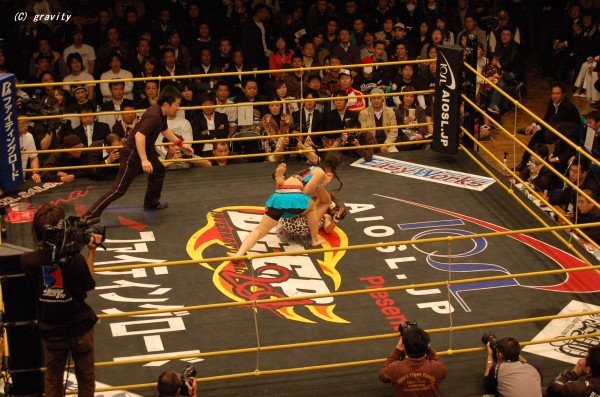 Ham floored Watanabe
Round 2
Having taken a lot of damage, Hisae went straight for the takedown in the second and wound up on top, and brought the match to Ham's weakpoint, where she passed Ham's closed guard. After a break, Hisae countered with a front kick and right hook, but there was a big difference in damage dealt out,
Ham via UD (3-0)
Post Fight Interview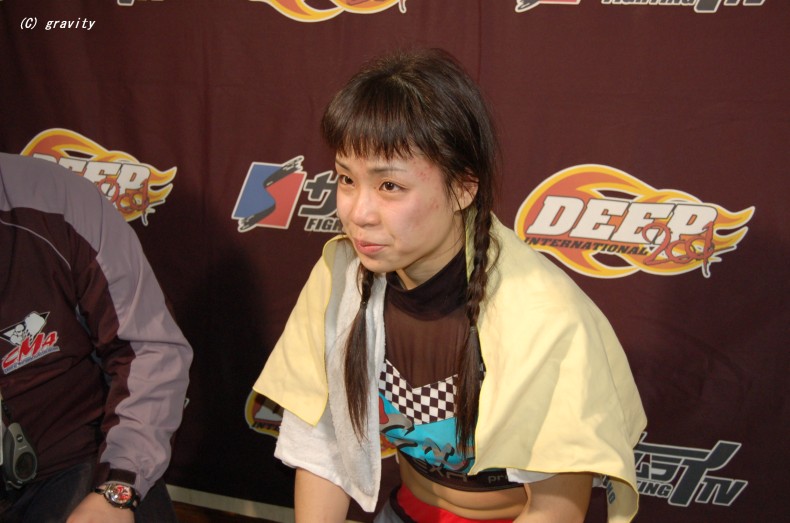 Q
: What were your thoughts on the fight?
Ham
: The Japanese level is high, I could feel the difference from South Korea in my body.
Q
: What was it liked beating a strong opponent?
Ham
: Being able to fight and win in Japan feels like a dream to me.
Q
: Round 1 was striking and 2 was grappling.
Ham
: I heard that Hisae likes to fight at a kickboxing pace, I thought I would win or lose standing, but I was shocked when she took me down in the 2nd, but my corner was able to give me instructions, so I was able to avoid any bad situations on the ground.
Q
: Do you think you want to keep fighting in Japan?
Ham
: I was called out by a Japanese organization, I will do my best to fight whenever I can.
Q
: How did you get involved in MMA?
Ham
: I started in kickboxing three years ago, but this was my MMA debut. Since I got the offer for this fight, I've been training in MMA for about 1 month. My boyfriend is a fighter so we trained together, I think we had good results in training. I started training in kickboxing because I wanted to enter the military. But then I became engrossed in kickboxing and it started to look like I wouldn't join the military. There are a lot of kickboxers like me in Korea, I think there are a lot better kickboxers than me.
Q
: Do you know any Japanese fighers?
Ham
: I know Windy.
Q
: Is this the first time you've fought on a big stage like this?
Ham
: Its the first big stage since my birth.
Q
: Hisae stills holds the belt, do you want to challenge for it?
Ham
: I want the belt too, even though I feel like I want to be champion, from now on I want to prepare for MMA more then challenge for the belt.
Q
: Are there a lot of people who do kickboxing and MMA in Korea?
Ham
: There are more who do kickboxing, there are no women's mma fights in Korea, there are about 2 or 3 women who do mma in Korea.
Q
: You've got a nice left hand.
Ham
: Well. I'm a southpaw so my left is my strong side.
Q
: Who's picture is that in your chest?
Ham
: My boyfriend's picture.
Aftermath
After defeating Watanabe in such exciting fashion, Ham became a staple of the Japanese scene and was fast tracked to big fights. In her first 6 fights she faced Watanabe, Miku, Yuka Tsuji, Megumi Fujii, and Saori Ishioka. Ham eventually went on to become the Deep and Deep Jewels champion before moving to the UFC.
Ham also had a successful kickboxing career in Japan where she faced off against Emi Fujino, Megumi Yabushita, Rena, and Erika Kamimura.