When people speak of fighters words like "veteran", "pioneer" and "legend" are often thrown around. They are thrown around liberally and this has devalued the terms in my opinion. They aren't titles that are self-given. They are taken with action. A BJJ student who started MMA because the reporters were ignoring the BJJ fighters, "V.V" Mei Yamaguchi has earned them. The titles of both "Veteran" and "Pioneer".
The Pioneer
Before Ronda Rousey and Liz Carmouche became the first women to fight in the UFC, Mei Yamaguchi cleared the path for women in both VTJ and Pancrase. Mei faced off against Megumi Fujii in VTJ to become the first women to compete for the organization. They also took home fight of the night honors. Before VTJ, Mei took part in the first women's main event for Pancrase, defeating "Windy" by MD.
Outside of MMA, Mei took place in the 1st Girl's S-Cup for Shoot Boxing. The Girl's S-Cup is now one of the biggest women's combat events in all of Japan. The one day tournament has seen and created numerous stars. Mei has become a regular for the organization and has made it to the finals in 2 of her 4 tournament appearances. In working with her success, her exciting slams have made her a fan favorite.
The Veteran
With a record of 11-6-1, Mei has faced tough opponents her entire career. To those that follow Japanese MMA, it is actually quite impressive. Mei has fought Emi Tomimatsu (2x's), Emi Fujino (2x's), Yuka Tsuji (2x's), Saori Ishioka, "Windy", Megumi Fujii, Ham Seo Hee and Mika Nagano. As far as MMA goes, the only fighter left for her to face at this point is Mizuki Inoue. Throw in her Shoot Boxing record and she's faced Rena (2x's) and Miku Matsumoto in a grappling match. Needless to say, Mei has time and time again entered the ring/cage against the best opponents available to her. This makes it all the more impressive that she has never been finished.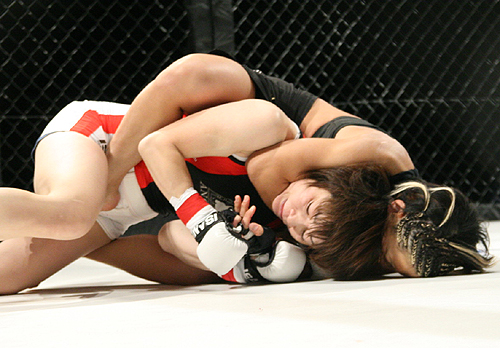 With women in MMA becoming more and more popular, the future has never looked brighter. Reaching the prime of her career, Mei has expressed a desire to move down to 105. The idea of Mei fighting at 105 is very exciting. More often than not, she has had to overcome size and strength advantages in her fights at 115, so watching her fight an even fight at 105 would not only be exciting but also refreshing. With women's MMA soaring to new heights, I for one hope to see many more good fights out of Mei.
Here is a highlight of "V.V"