Name: Jujeath "D' Badgirl" Nagaowa
Record: 2-0 (2 via TKO)
This weekend, WSOF-GC is putting on a event in the Philippines and for their inaugural show in the country they have signed a skilled boxer and a top prospect in mma, Jujeath Nagaowa. With 8 KO/TKO's in boxing and having finished both of her mma fights by TKO, it is clear that Jujeath is primarily a striker but she is looking into becoming more of a well-rounded mixed martial artists. Both of her mma fights were pretty exciting as Jujeath mixed up her strikes to both the head and the body and attacks in a seemingly relentless manner, which is why when I saw that WSOF-GC had announced that she was fighting this weekend, it caught my attention. As some of you may be aware, I have been compiling statistics relating to the women's divisions in Asia and Jujeath's names was one of the names that I circled as a prospect to keep my eye on. Apparently I was not the only one who noticed her potential as WSOF-GC announced that they had signed her a couple of weeks later. If you haven't, I would suggest watching one of Jujeath's mma fights to get a better idea of what her striking is like.
Without further ado, here is our interview:
CJ: Can you introduce yourself to the readers? How did you get into martial arts and when did you decide to go pro?
JN: I am Jujeath Nagaowa, a Filipina fighter and a proud Igorot native from Mountain Province & Benguet.
I started martial arts career thru amateur muay thai in 2006 then shifted to pro-boxing the same year to become the first Filipina pro-licensed boxer to compete. I Enjoyed boxing professionally for almost 10 years then became an MMA fighter as well in between those years specifically in 2014.
CJ: You started out as a boxer (2010-2013), then fight twice in MMA (2014). Afterwards you returned to boxing in 2015. Why did you return to boxing?
JN: I've been doing boxing ever since. I just love the sport and it's hard to really get out totally if you're really in love with it. At those times, so many offers I think I shouldn't let go so when it knocked,I just grabbed.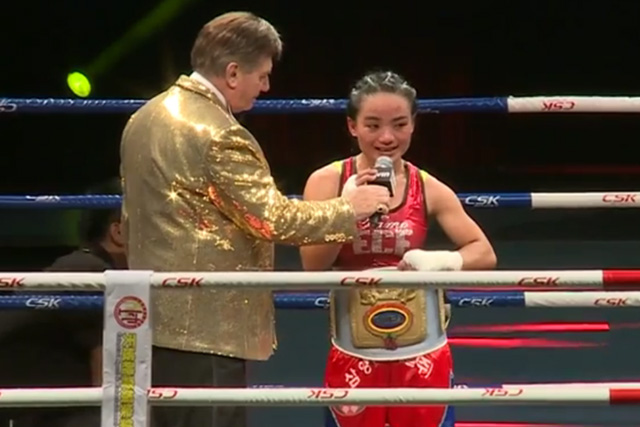 CJ: What motivated you to return to MMA?
JN: As I always say, MMA is an undeniably very intense exciting and tempting combat sport where you can show what you really got and what you can do really regardless of what your specialty is. I just want to prove myself that I can do more than boxing and anything else. It's a self challenge and at the same time a dream.
CJ: Your boxing record is well documented, can you talk about transitioning to MMA? What is your training schedule like?
JN: I always start the day with morning run then killing myself in the gym in the afternoon. All I can say is that MMA training makes you a beast. From the stretching itself,conditioning, very different,. It's just always like an obstacle you need to pass thru every single training.
CJ: In press releases WSOF has hinted at future championships and titles for women. Do those interest you? What are your career goals?
JN: I am a dreamer, I dream big but I should walk the right path towards that goal. Definitely,championship thing is a very interesting one but I think it's too early for me to advance my thinking on that stage coz I still consider myself a novice in this career and I really want and need to get some wins first. :)
CJ: When you aren't training what do you like to do? Do you have any hobbies?
JN: I am doing online selling, and taking school for graphic designing.
CJ: Can you talk about women's combat sports in the Philippines? Is it becoming more popular? What about MMA specifically?
JN: Combat sports is I think very popular especially boxing and MMA is becoming more on the scene nowadays in the country.
I hope to see more fighters excel. I think there are so many female fighters, its just that some are not being exposed or given an opportunity.
CJ: Are there any fighters that inspire or motivate you? Who do you like to watch?
JN: I'm a fan of Meisha Tate, but I love to watch the fights of any fighters especially females.
CJ: Can you talk about your upcoming fight? What should the fans expect?
JN: Just expect same Jujeath, fighting still no matter what. I am just excited to be back on the cage.
CJ: Anything you would like to say? Anyone you would like to thank?
JN: I am so thankful for the WSOF for opening it's door to me and for all the concerned individuals who worked for the pursuant of my MMA career. For the people who still believe and trust in me. For everyone and to Him, thanks thanks 
Watch Jujeath fight this weekend for WSOF-GC, where she will face Yuko Kiryu on Saturday.
We would like to thank Jujeath for taking the time to answer our questions.