Hakushinkai Gym
I recently had the opportunity to travel to Toyohashi and to visit with Mizuki Inoue and her coach Sadanori Yamaguchi. During my time there, we discussed some of Mizuki's past fights, her future, and Yamaguchi's background and teaching philosophies. Yamaguchi may not be well known in America, but it is no coincidence that Mizuki (9-3) is the Deep Jewels Champion and two-time Girl's S-Cup Champion, that Yukari Yamaguchi (1-0), his 17 year old daughter, sucessfully made her pro-mma debut this year, is the J-Girls champion and is also a Girl's S-Cup Champion, and that Naoki Inoue (4-0), Mizuki's 18 year old younger brother, made his debut and won four fights this year.
Below are some excerpts from our conversation.
Mizuki and Yamaguchi-Sensei

CJ: It being January, what are your goals for 2016?
Mizuki: I want to win all my fights.
CJ: How many times do you want to fight?
Yamaguchi: Seven times.
Mizuki: Can I do it (laughter)? I want to fight seven times (laughter)
CJ: How about Shoot Boxing?
Mizuki: If I have the opportunity to compete in the Girl's S-Cup or in Shoot Boxing, I would like to do that as well.
--------
CJ: Your next fight is against Lacey Schuckman, did you see her last fight?
Mizuki: No, I didn't.
CJ: So you didn't see that she said she wants to fight you after she won?
Mizuki: She did? I didn't know that (laughter) What does that mean? Does she think I'm strong and it will be a good fight or does she think she'll win?
Yamaguchi: It means she thinks she'll win, that you are weak.
Mizuki: Does she think I'm weak? Well that doesn't make me very happy then....
Mizuki: I didn't see her last fight, but I saw her fights with Hamasaki and Waterson. She has a long reach and uses it well. She's also pretty good on the ground. That being said, I think I can take her down if I want to and I can strike with her. I think she'll probably try to push me up against the cage and clinch with me.
--------
CJ
: Can you talk about your fight with Alexa Grasso? Some people think it might have been the best fight in Invicta last year.
Mizuki: I thought her punches had good power and she used her reach effectively. My plan was to take her down while she was kicking. I was sure that I lost the first 2 rounds, so I knew I needed to submit her in the 3rd round, so I tackled her and tried my best. I'm kinda happy to hear the people enjoyed the fight, but I lost, so I'm actually not that happy about it.
Mizuki and Alexa photo courtesy of Sherdog
--------
CJ: Do you want to fight in the UFC and if so when?
Mizuki
: I don't know when, but it is a goal of mine.
Yamaguchi
: She'll be ready in about 2 or 3 years. Our targets are Joanna and Claudia.
Next to the heavy bad are two signs, one says Joanna and the other Claudia.
CJ
: I heard you've gotten to train with Joanna a little bit.
Yamaguchi
: I grappled a little bit with her before her title fight with Carla.
CJ
: What do you think of her?
Yamaguchi
: She is a monster.
Mizuki
: Yes, lol, she is, she has power and speed.
Yamaguchi
: I don't know who will win a rematch between her and Claudia, it is difficult to see who will win.
Mizuki
: I agree.
CJ
: You've already beaten a couple fighters in the UFC and lost a split to Karolina who just beat the number 5 ranked Randa Markos.
Mizuki
: I've beaten a couple but I've also lost to Karolina. Next time, I will win. I'm happy that I beat Bec and Alex but have they done well in the UFC? Have they won or lost? If they do well then I've beaten them, but there are stronger people, and I am not 100% confident about facing them yet.
CJ:
Anyone that you would like to fight in particular?
Mizuki
: I want to fight Karolina again and Carla.
CJ
: Why Carla?
Mizuki
: She was the former champ, of both Invicta and the UFC.
Yamaguchi
: What about Rena?
Mizuki
: Rena? (laughter), No way!
Yamaguchi
: Why not, she is famous and a big name here in Japan?
Mizuki
: In Shoot Boxing or MMA?
Yamaguchi
: Don't you think you'd win?
Mizuki
: (thinking) (smiles) Yes, I'd like to fight Rena, in Shoot Boxing and in MMA.
Mizuki
: Before I enter the UFC, I want to be the Invicta Champ, that way I can be confident that I will do well.
--------
CJ
: Your daughter has been fighting for awhile now, is she going to be competing more and more in MMA now that she has a kickboxing and a Shoot Boxing championship?
Yamaguchi
: She's been doing MMA since she was little so she wants to be a champ in it as well. I think right now she is concentrating on kickboxing, that she likes it a little more at the moment, but she will be competing in some MMA matches for Deep and VTJ if the chance arises.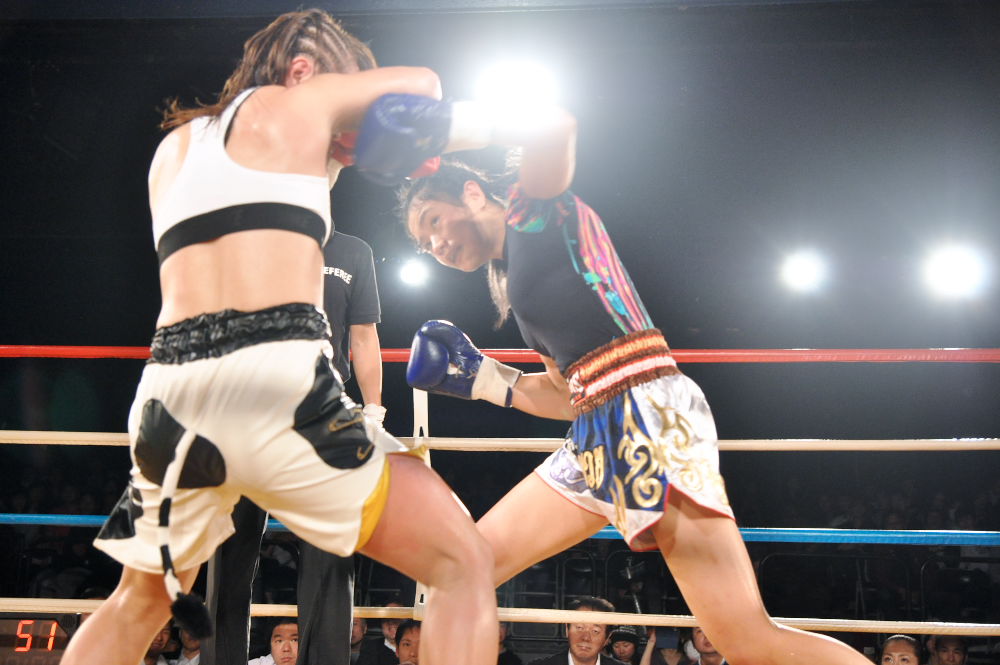 Yukari Yamaguchi, photo courtesy of LadyGo!
CJ
: I read that you were influenced by Ichihara's loss to Royce Gracie at UFC 2, can you talk about that?
Yamaguchi
: I was part of the same karate-dojo system as Ichihara and at the time I thought he was stronger than me, but he couldn't do anything against Royce. Now, I mix karate with BJJ because I realized that karate alone wouldn't win you fights necessarily, you need to know how to take some one down and grapple. After that fight, I studied BJJ for about a year and a half here in Toyohashi. BJJ is really good and is important. I learned the process, position before submission. The positions were really important to learn. I think karate used to have all these things, because it was real fighting, kind of like mma, now it has been changed into sport karate, I think karate used to look like mma, except with everything allowed, i.e. eye pokes and groin strikes.
CJ
: Mizuki competed in a number of BJJ tournaments last year, was that a goal of yours?
Yamaguchi
: Mizuki did not have a lot of fights last year, so she did a lot of BJJ competition. She wanted to strike to, but just didn't have the chance to.
Hakushinkai Gym
CJ
: A lot of your fighters are really young but already have really good head movement.
Yamaguchi
: If you get hit in the head a lot, its bad (laughter), so I have the kids I train move their heads and not get hit to minimize that. From when they are little they learn head movement and how to block shots. In the Karolina fight, people criticized Mizuki for being too defensive, but she avoided getting hit cleanly to the head. A fighter's life (the time when they compete) is short, so they need to protect themselves. I worry about the heads of my students so I train them how to avoid getting hit.
--------
CJ
: What is an average day for you (Mizuki) like?
Mizuki
: I wake up very early and go to work at the convenience store, then I come to the gym and train, then I take a nap, then I come back to the gym and train again, then I go to bed.
CJ
: You've talked about how you enjoy Karaoke before, any new songs you are singing?
Mizuki
: I haven't had time to go, but when I used to go, I would sing Exile and J Soul Brothers.
--------
Mizuki
: Recently, I've lost a couple of fights, before those fights, I thought I was going to win, but now I know I will win, I must win. If you support me, it would mean a lot.
Yamaguchi
: She's lost a couple but I know she'll win, she's strong. Please support us.
I'd like to thank Mizuki and Yamaguchi-sensei for taking the time to talk with me. You can watch Mizuki fight Lacey Schuckman for Invicta FC on UFC Fight Pass on January 16th.
On January 16th, Mizuki faces Lacey Schuckman
Here is an earlier post about Mizuki and Yukari