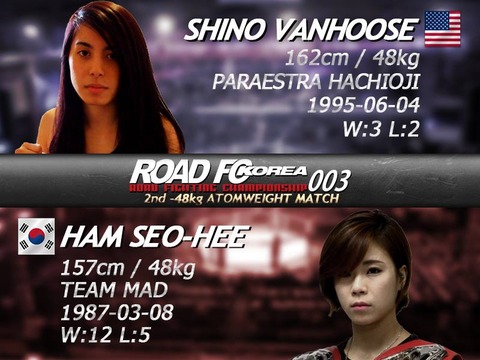 Ham Seo Hee (12-5) will be facing off against fellow Jewels veteran Shino Vanhoose (3-2) this Sunday on April 6th.
Ham Seo Hee is coming into this match as the Deep Jewels Atomweight Champion and is riding a three fight win streak.While her 12-5 record is impressive, I would argue that it is even more impressive when one looks at the names. Her five losses were to Miku Matsumoto (23-4), Yuka Tsuji (24-3), Megumi Fujii (26-3) and Ayaka Hamasaki (9-1). She is also undefeated at 105 holding a 3-0 record in the division. One can also expect her to come into this fight highly motivated as this will be her first MMA fight in her home country.
Shino VanHoose is a definite prospect and hasn't fought since 2012. So there are questions going into the fight. She is back in the States, having previously trained in Japan, so it is impossible to tell what she has improved in and how her style has evolved. Having had seen her fight before, I can say that she used to be predominately a grappler but I don't know what she is like now. What I do know is that she has nothing to lose in this fight and everything to gain.
Ham Seo Hee Training
Shino VanHoose Grappling